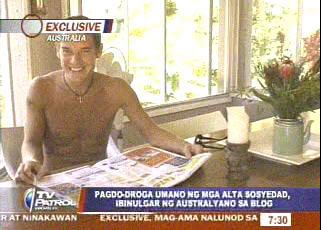 Brian Gorrell, the Australian gay socialite who was robbed by his former Filipino boyfriend Dj Montano, is now a phenomenon. He has already conquered every national newspaper, personal blogs, and now the national television. Brian's plea to bring back the money stolen from him by DJ Montano has now become every bloggers sensation. Fans and fellow bloggers are now scouring every possibility of giving him the utmost support and now he's seen live on Philippine television. Local television network ABS-CBN finally talks about the issue, a correspondent in Australia reported about Brian's campaign for justice through his blog. However, the local TV news network never mentioned names of famous socialites in Manila who were part of Brian Gorrell's ranting in his blog. The question now is, will he make it? Will he get his $70,000 back?

Watch Brian Gorrell's interview with TV Patrol correspondent Gigi Grande:

Read the rest of the entry...